The past year has been a wild ride. Take a look at these graphs to get a sense of how things are changing.
Months Supply of Inventory
This is the length of time it would take to sell all the homes for sale now if no other homes came on the market, given the current pace of sales. Have we hit bottom at .6 months? As we move into the summer selling season, we' hope to see this graph move upward and that we'll have more supply.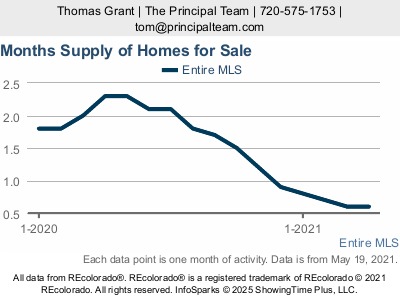 Closed Listings
With just over half a month's supply of homes on the market, it may seem like little is happening in the real estate market, but that's definitely not true. You can see here that we're having a large number of closings – almost 8,000 last month!
New Listings
Even though homes are selling quickly, there's been a steady rise in inventory since the start of 2021. Quite a few more homes must come on the market if we hope to increase the months of inventory available, but we're on the right track.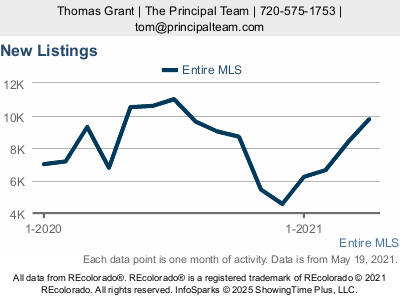 We hope these key statistics are helpful. See more graphs that show trends in our Front Range real estate market.
---
Now is a great time to sell your property. If you're ready to make your move, we can show you how we help sellers earn more and pay less. Call David and Tom anytime at 720-782-2468 or click here to schedule a call.